23/03/2020 COVID-19 Update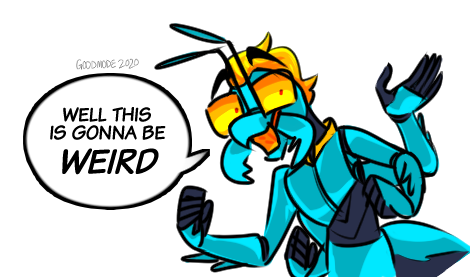 Hi there! I'm not sure how many of you out there keep up with my website, but here's some news.
I live in the UK, and today (23/03/2020) there was a lockdown called due to the Coronavirus/COVID-19. In true UK fashion, they're saying it's supposed to last 3 weeks and then "we'll see" if it's okay to lift it. I'm gently resigned to a longer haul, because this is a global event the likes of which the UK hasn't seen "in living memory" and considering we're following closely behind Italy in terms of sickness/losses I'm ready and willing to go longer, and I hope others are staying safe too.
I'm safe, currently living with my family, and I'll still be making art and hopefully updating my webcomic as I can - but income will be difficult, same as for everyone else in any country under lockdown.
I'd like to make a PSA: stay safe, stay strong, and stay kind. The virus and its effects on health and society will be difficult.
Stay safe at home and help contain the spread, so your country's health services can manage, and so that you don't unwittingly pass the danger to someone at risk.
Stay strong, because having to share a space with others (or no one) for a prolonged period can be hard. Reach out online where you can, if you need to.
Stay kind, and understand this is everyone's danger. Everyone is going to be struggling, and we can do without unkindness now more than ever. Do not give in to fearmongering that will try to make you think humanity is the enemy. A system that has pretended for so long that it cannot care for our weakest, yet suddenly waives the fees and red tape in a crisis, is not a system built with human care in mind. We can, and must, do better.
Other than this announcement, I'll try to keep updating as ordinarily as I can manage. If you want to keep in touch or you'd like to reach out, you know where to find me - it's all over my website.
Take care,
Anders
Welcome
I'm Anders/GOODMODE, a digital artist who specialises in character art and goofing off. I also run a webcomic in my spare time that you can read for free here.
This is my personal website that I play around with in my free time. I sometimes put side projects here, and things unrelated to my art. Someday I hope to make a living from my art and personal projects, but until then, it's all for hobby's sake - though you can commission me, support me on Patreon, or tip me on Ko-Fi if you like my work and want to help me on my GRAND QUEST FOR SELF-SUFFICIENCY.
Coming Soon?
to-do list:
update layout of main site
DEIFY logo
set up commission info page on my site instead of just on docs
maybe a character profiles page/directory?
a sub gallery page for animations because i do those sometimes
VIDEO OF THE NOW
this is the latest video i felt like sharing. it is not content i made, and it changes whenever i decide to change it. it was video of the day but laziness is next to godliness
10/08/2019 ART ADVICE